Karla Pérez was born in Guadalajara, Jalisco where she spent the first years of her life growing up alongside her parents, aunts, uncles, and grandparents. Karla's first notable musical influence came from her maternal grandfather, Antonio Nuño Rivera.
Antonio was an extremely talented and passionate violinist who played for the Mexican orchestral groups Orquesta de la Marina de México and Los Violines Mágicos de Villafontana. He performed with these groups during the Golden Age of Mexican Cinema, a historical and thriving period for Mexican stars such as Cantiflas and Pedro Infante.
This was also a time in which one of the most symbolic entertainment centers in Mexico City, «El Patio," bloomed with life and allowed musical artists, like Karla's grandfather, to perform. During the end of his career, Antonio became a member of the Majestuosa Orquesta Filarmónica de Jalisco (Majestic Philharmonic Orchestra of Jalisco). As a young girl, Karla fondly remembers watching her grandfather perform regularly at the Degollado Theater.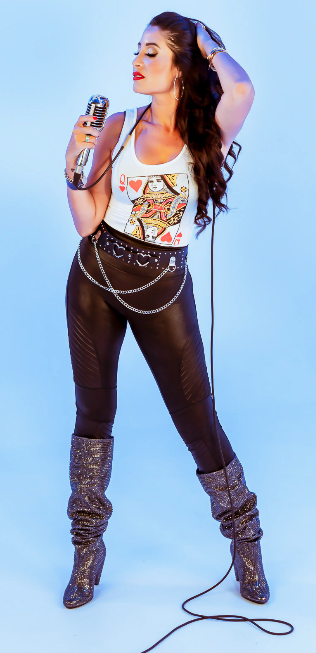 She enjoyed watching her grandfather be part of an orchestra ensemble that was close to home and that had become successful in being favored by politicians as well as other renowned figures across Guadalajara, Mexico. Antonio organized the goal that his eight children would grow up learning to play the piano and appreciate the performing arts. One of those children was Karla's mother, Patricia. Because of this, Karla remembers that her grandparents' house was a home full of love and music where singing, piano, and the violin filled the home constantly.
This was a definitive time in Karla's childhood because she knew then that she wanted to be a singer. She spent hours in front of the television singing the songs of her favorite artists and she always had a show ready for her upcoming family reunions. Karla never missed the opportunities to perform in school festivities and she even took part in state singing competitions where she always won first place. Excitedly, at age 11 she was chosen to record a promotional jingle for one of the Institutional Revolutionary Party's (PRI) political campaigns. Karla's drive and love for the performing arts led her to join the Casa De La Cultura to continue her artistic training.
As a teenager, Karla and her family moved to Arizona and she joined the choir for her new school, Kofa High School. Later on, she took her grandfather's inspiring influence as well as his advice and decided to study singing at the Conservatorio de Música de Guadalajara (Conservatory of Music of Guadalajara). There, she became part of multiple musical groups as a vocalist. She also had the opportunity to record jingles for a radio station in the city of León, Guanajuato and again for the PRI political party.
Upon returning to Arizona, she joined the Chamber Singers at Arizona Western College. Throughout this time period, local musical groups became interested in her strong talent and presence on stage, inviting her to become the main female vocalist for their bands. Most of these were Rock bands, but they had fluidity in other genres, like Tejano music meaning that she regularly sang Selena Quintanilla's songs. Karla performed with these bands in bars, private appearances, and events put on by the city. After every Selena performance, there were comments made by their supporters that her looks and voice had a resemblance to the star herself, but she only considered those remarks as generous compliments. When Selena tragically passed away, they continued playing her music and their supporters flooded Karla with requests to sing her songs to keep her memory alive.
To honor Selena and her fans in her own performances, she made sure to prepare by watching all of her videos repeatedly. Karla enjoyed learning Selena's singing style as well as the way she moved and owned the stage. She had long admired her, but Karla never imagined that one day she would have the opportunity to celebrate this great artist by becoming the lead singer for the tribute band: Selena the Show. Nine years later, after getting to step on the big stages and with several performances already having taken place in Las Vegas, Nevada, Karla feels blessed and grateful for having realized her childhood dream of becoming a singer. When she is not on tour with Selena the Show, Karla continues to live out her passion by performing with her Latin cover band, MALIBÚ.
More on Karla Pérez :
Karla has a Master's Degree in Education and is now seeking her Real Estate Agent license within the state of Arizona. Karla considers herself a strong entrepreneur and an adventurous woman. She is driven by challenges, growth opportunities, and traveling with her family. Karla has participated in reality show castings such as La Academia, La Voz and Objetivo Fama. Karla's biggest musical influences are Alejandra Guzmán, Shakira, Natalia Jiménez, Gloria Estefan, Jennifer Lopez, Gwen Stefani, Juan Gabriel, Luis Miguel, Selena, Michael Jackson, and she is a lover of Spanish and English Rock music.